Benefits of Basil + Growing Tips & Recipes {Herb Study}
Basil
Name Origin: Latin + Greek- Basilius, meaning "royal" / "kingly"
Belonging to the mint family, Basil is a powerful herb with rich leaves and a sweet scent. There are several varieties found and used in every corner of the world, though it may have originated in India over 5,000 years ago.
Nutrients & Benefits
Basil is rich in vitamin K and the antioxidant beta-carotene (vitamin A), which promote cellular health and reduce free-radical damage within the body.
Studies have shown that this emerald plan contains volatile oils including estragole, linalool, cineole, eugenol, sabinene, myrcene, and limonene. With kind of this chemical makeup, Basil is an antibacterial powerhouse that can restrict the growth of numerous bacterial strains, whether consumed or used externally in cleaning or self-care mixtures.
It has also been used for many years as an anti-inflammatory aid, helping to soothe chronic pain and digestive stress.
Other studies have shown that Basil can:
Increase mental alertness when used in aromatherapy

Reduce memory loss associated with stress & aging

Reduce depression related to chronic stress

Reduce stroke damage & support recovery, whether given before or right after a stroke

Improve fasting blood sugar, cholesterol & triglycerides

Reduce blood pressure in people with hypertension

Relax blood vessels & thin your blood, similar to aspirin

Protect your gut; particularly preventing ulcers

Help prevent certain cancers, including breast, colon & pancreatic cancer

Inhibit the growth of bacteria that cause dental decay

Provide an alternative to antibiotics for infectious diseases, including combating antibiotic-resistant strains of bacteria

Repel insects, such as mosquitos and ticks
How to Grow Your Own Basil
You can grow your own Basil just about anywhere with access to full sun. If you live in a colder climate, consider a small window garden on the side of the home that sees the most sunlight. Basil can grow year-round if kept happy in a warmly lit area with rich, moist, and well-drained soil.
Trim leaves or at the base of the groups to harvest. Separate the leaves and rinse with filtered water before consuming. Avoid storing Basil in the fridge as the cool air will kill the leaves. If unable to use right away, you can freeze the leaves or dry them.
If shopping for Basil, try to spring for organic or check out a local farmer's market where they are more likely to carry fresh sprigs.
Other Uses
You can also use Basil oil, for easy storage and access. For aromatherapy, simple add a few drops of the essential oil to your diffuser or a glass spray bottle mixed with filtered water. Spritz around the room for a fresh scent and mental clarity.
To boost your DIY cleaner, you can add Basil to a mix with lemon or lime oils, or Thieves oil for an extra fresh scent and more intense clean. Use on hard surfaces and wipe clean.
For you tea lovers, you can also add a drop or two of this oil to your brew for a stimulating blend. Or use fresh, chopped leaves and brew into tea as you would a loose tea blend.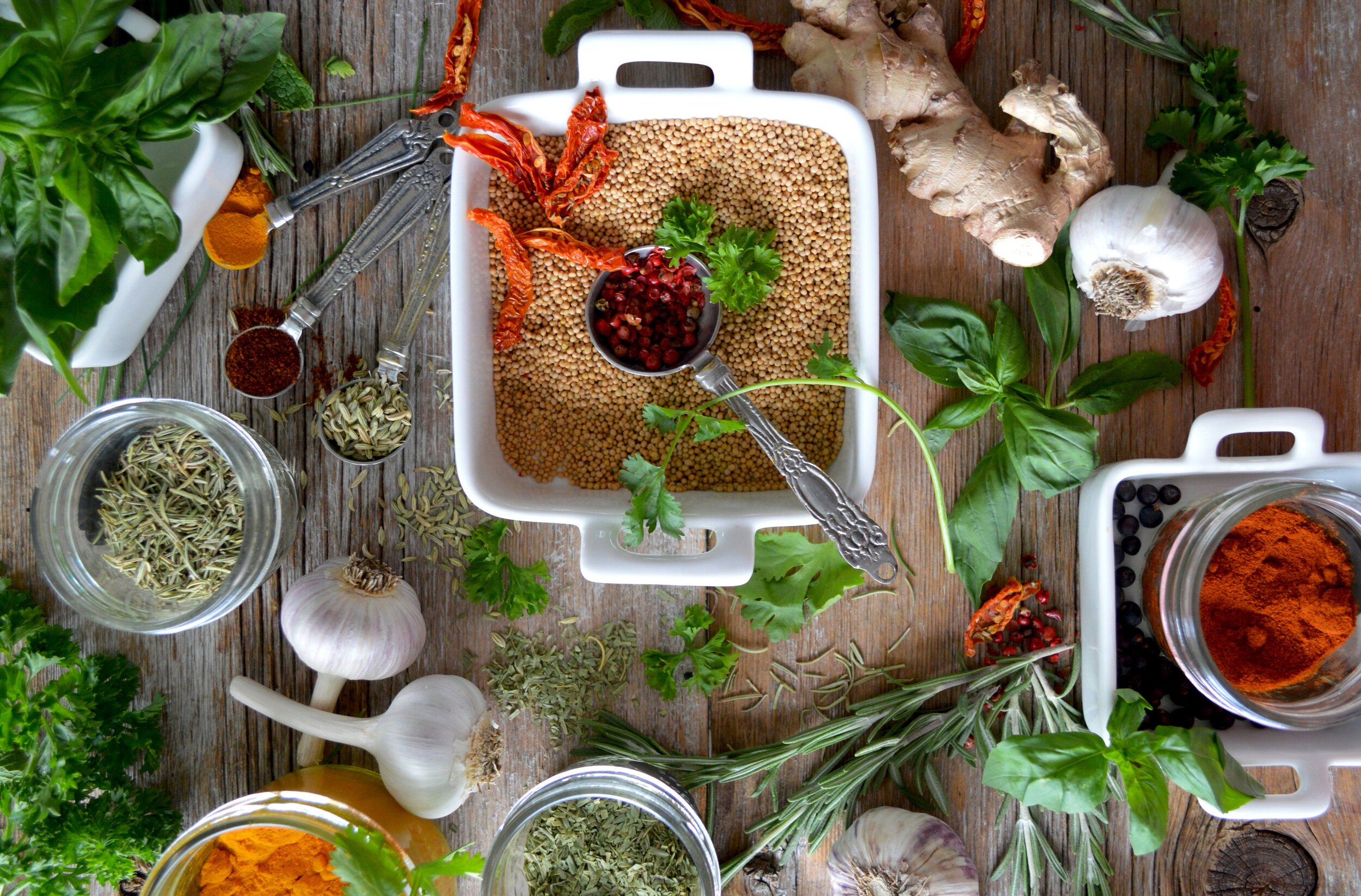 Munching on raw Basil is not all that tasty. But it doesn't take much to dress up its earthy flavor and indulge in delicious meals packed with nutrients.
Strawberry + Lime + Basil Water
Refreshing fruit-water combos are one of the easiest (& tastiest) ways to stay hydrated and keep a variety of fresh nutrients in your diet without much prep time.
You can keep the fruit and leaves in the water or strain them after a few hours of soaking.
Ingredients
10 cups filtered water + one large jar or pitcher

2 cups strawberries

2 small limes

1/2 cup fresh Basil leaves
Directions
Rinse the fruit and leaves with fresh water, remove berry stems, and peel limes if desired. (*If limes are not organic, it's recommended to peel them as chemicals may remain on the skin.) Chop limes and berries into slices.
Place fruit into the pitcher and add water. Add Basil leaves, chopped or whole. Stir and allow to brew for at least 3 hours. Can keep refrigerated for up to 4 days. Strain solids after first day.
-For immediate flavor, you may mull the fruit and Basil together in a separate bowl then add to water.
-Add a teaspoon of raw honey for added sweetness
Roasted Tomato & Basil Soup
For those already experiencing cooler fall weather, you will love this Roasted Tomato & Basil Soup. This recipe will make a large batch, perfect for meal prep or a family gathering!
Total cook time is a little over an hour and it will serve 6-8.
Ingredients
3 pounds ripe plum tomatoes, cut in half lengthwise

1/4 cup plus 2 tablespoons olive oil

1 tablespoon kosher salt

1 1/2 teaspoons freshly ground black pepper

2 cups chopped yellow onions (2 onions)

6 garlic cloves, minced

2 tablespoons unsalted butter (*or Vegan alternative butter)

1/4 teaspoon crushed red pepper flakes

1 (28-ounce) canned plum tomatoes, with their juice (*or boxed)

4 cups fresh basil leaves, packed

1 teaspoon fresh thyme leaves

1 quart chicken stock or water (*organic broth if you can :)
Directions
Preheat the oven to 400 degrees F. Toss together the tomatoes, 1/4 cup olive oil, salt, and pepper. Spread the tomatoes in 1 layer on a baking sheet and roast for 45 minutes.
In an 8-quart stockpot over medium heat, saute the onions and garlic with 2 tablespoons of olive oil, the butter, and red pepper flakes for 10 minutes, until the onions start to brown. Add the canned (*or boxed) tomatoes, basil, thyme, and chicken stock. Add the oven-roasted tomatoes, including the liquid on the baking sheet. Bring to a boil and simmer uncovered for 40 minutes. Pass through a food mill fitted with the coarsest blade. Taste for seasonings. Serve hot or cold.
(Recipe Source, *Optional changes added by me :)
Bruschetta with Tomato & Basil

Another crowd favorite for any season! This recipe is simple and takes less than 15 minutes to whip up. If you enjoy cheese, you could also sprinkle in some organic mozzarella or vegan alternative to add a bit a creamy flavor and texture.
Ingredients
1/2 baguette or crusty long loaf bread, sliced (12 pieces)

2 large cloves garlic, cracked away from skin

Extra-virgin olive oil, for drizzling

3 small plum tomatoes, halved and seeded

20 fresh basil leaves

Coarse salt
Directions
Preheat broiler to high, (if you prefer you can also grill the bread). Place bread slices on a broiler pan. Char bread on each side under hot broiler, keep an eye on it!
Rub toasts with cracked garlic and drizzle with oil. Chop seeded tomatoes and place in a small bowl. Pile basil leaves on top of one another and roll into a log. Thinly slice basil into green confetti and loosely combine with tomatoes.
Add a drizzle of oil and a little coarse salt to the bowl and gently toss tomatoes and basil to coat. Pile toasts around the bowl of topping. Place a spoon to scoop topping in bowl and serve.
Asparagus with Olives & Basil
This super easy side can go perfectly with salmon or grilled chicken breast, or simply enjoy by itself!
Ingredients
2 tablespoons extra-virgin olive oil

2 to 3 cloves garlic, finely chopped

2 pounds medium asparagus, trimmed and cut into 2-inch pieces at an angle

Kosher salt and freshly ground black pepper

Kosher salt and freshly ground black pepper

3 tablespoons pitted kalamata olives, slivered

2 tablespoons chopped fresh basil
Directions
Heat the olive oil in a large skillet over medium heat. Add the garlic and cook, stirring, until fragrant, about 30 seconds. Add the asparagus, 1/4 teaspoon salt and some pepper and cook, stirring, until the asparagus is bright green and crisp-tender, 5 to 7 minutes.
Add the olives, basil and 1/4 teaspoon salt and toss well. *Viola!
Basil is a magical little herb that's also beautiful to see in a windowsill or garden area. For those who enjoy using food as medicine, Basil is a force to be reckoned with! Its antibacterial properties alone are enough to utilize its benefits on a regular basis and having access to it year-round makes it easy to keep or purchase organic.

If you have a favorite recipe or oil blend, leave it in the comments below or get social & share the love! :)
Don't forget to sign up for the newsletter to join the Root Conscious Family and be the first to receive more tips for happy-healthy living!